【派遣先】サラゴサ大学 【派遣期間】2022年9月~派遣中 


経済経営学類 I.Yさん

Introduction:
Let me tell you how I survived the first three months in the city of Zaragoza in this report. Zaragoza is far from Madrid: the capital of Spain, Valencia, Barcelona, and Bilbao about 300 km. This city is the capital city of the Zaragoza Province and the autonomous community of Aragón. It has about 690,000 population and the geographical terrain is a valley. The University of Zaragoza is the largest university in the region, about 28,000 students. However, please remember that you cannot experience typical Spanish culture such as Flamenco, Bull fights, Paella except for football in Zaragoza.

University life
A day on weekdays
6:50: Wake up: the outside is still dark like midnight.

7:10: Eat breakfast: usually a cup of coffee and bread.

7:40: Go to the university by bus, about 30 minutes depending on traffic.

8:00 to 10:00: The first period, this period is very hard for both the professor and the students due to the very early morning.

10:00 to 12:00: The second period.

** Courses are held later but I have no classes in the afternoon this semester so I go back to my residence.

13:00 to 14:00: Eat lunch with friends: students usually in their house or dormitory while sometimes in a bar. We have many general conversations about university courses or private stuff during lunch time, so time passes really very fast. This is a precious time to exchange information which helps my life here: new friendships and useful tips.
14:00 to 18:30: I study in my room or go to a university library.

19:00 to 20:00: I go to a gym in my dormitory a few times a week to get refreshed.

21:00 to 22:00: Have dinner, it is also a precious time as lunch time.

22:30: Taking a shower and having a private time, even after dinner students in the residence are still cheerful.

24:00: Go to bed, to get enough rest for tomorrow.


Courses in the University
In this semester I only take two courses: Basic Marketing and Basic Spanish Commercial Law in The Faculty of Economics and Business. Both classes are taught in English. The faculty offers courses which are taught in English or Castellano. The faculty has educated their students for the last 10 years. Thus, professors can usually use English when you try to communicate.

The course of Spanish Commercial Law is literally the lecture about the basic commercial law. We study the meaning and role of the legal system in commercial activity in Spain. The name of the subject seems to be easy though, I think it is difficult to catch up with the course because of not being familiar with special legal terms. Getting used to the course is the fastest way to overcome the problems of previewing and reviewing. The type of course is lecture by a professor, so we do not have discussion activities by each student group, but it could help to exercise my reading and interpreting skills for the rest of my career.

The course of Basic Marketing is a lecture about theory and activity in actual markets. In the course students carry out team activities. Each group has to complete several projects during the semester in addition to the final individual examination. The reason why I take the course is just that I have never taken such a course in my home university. This course is more understandable and easier than the course of Spanish Commercial Law because I have pre-knowledge about the course having taken some courses about business in my home university: Theory of Basic Business Administration Ⅰ, Ⅱ and International Business Administration.

Anyway you can choose many kinds of subjects that the faculty offers because it is one of the most friendly degrees for education in English in the university: the other biggest is "the Degree in English". The courses which are taught in English are popular among Erasmus which is a part of a common exchange student programme for those who come from European Union's countries, and some Spanish students. But, in general, Spanish students tend to take courses taught in Castellano, probably because they prefer their own language.

Thus, I have to acquire Castellano, not just English, and it is a very important point to survive here. I have an intensive course of Spanish on weekdays' evening but the tuition fee was not very practical for me because I could not get a discount from the university. That is why I decided to pause taking the course and then shift to self-studying Castellano for a month as a trial. My friends here also complain about the unfair price of the course.

Life outside of the University:

Accommodation
You have two main choices for living here: in a student dormitory or a shared flat. There are several student dormitories in the city: organised by the university, other public institutions, and private. I strongly recommend you to look for your accommodation via a Unizar's office which is incharge of accommodations for students.
About my dormitory
I live in a student dormitory which is a 30 minutes' bus ride from the centre of the city. About 300 students live in my dormitory. The environment on weekdays is very cheerful because it is full of students but becomes quite quiet like a ghost town every weekend because many residents go back to their parents' home. This is unfortunate for me because opportunities to communicate with Spanish students in the residency decreases. Three meals are offered on weekdays in accordance with universities' calendar but you have to get your meals by yourself on weekends and holidays. In my case, each person's privacy is ensured more or less because I live in an individual room which is equipped with a quite small bathroom with a toilet, a bed, a desk, a heater, and a small make-up cabinet.
Friendships
Most of my friends are from Italy: Turin, Venice, and Genova. The main reason to have relationships with them would be that they have similar circumstances and because they also stay here as Erasmus. On the other hand, I have a few friends who come from Northern Europe, so I want to make more friends who come from those countries during the rest of my stay. Spanish people seem to be very kind to me, in many cases, but they have already built their own communities here or in their own hometowns. I may need to use an alternative way to make relations with them. I got this advice from my buddy, a student in the university.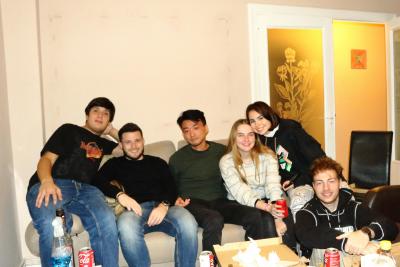 ▲A small party for my birthday with Italian Erasmus, some guys disappeared before taking this photo.
Furthermore, I absolutely recommend you to use a buddy programme in the university. This programme is organised officially by the university, all international students have rights to use it. I registered two months before I left Japan and have kept in contact with the student and even now I asked him a lot of things from general things about customs to complicated procedures for government offices. I am so thankful for my buddy's student's support.
Economics in Zaragoza
The economic situation in Zaragoza is very severe for Japanese people for two reasons: one is the soaring prices of basic goods and the other is the weak Japanese Yen against the Euro. In recent days, while the currency rate between JPY /USD has tended to a higher value to JPY stably, the ratio of Euro /JPY is not stable. Honestly, I am exhausted with today's circumstances such as the rate changing very frequently, even 3 yen or 5 yen in one night.
You should dispose of common sense in Japan for goods prices before you leave: to forget about news titles such as "Food companies will increase prices again from 30 to 50 yen''. Cost of living crisis in Spain seems to be much better than other northern European countries: especially in the United Kingdom, but I absolutely say that the speed of prices going up cannot be compared to Japan. In short, the thing which you should do is prepare the funds for this programme so that you can stand these inevitable hardships of economics although these topics may be the last thing you want to know. I will provide a budget as just a reference... (The currency is Euros).
Shared flat:

Basic Rental (shared by multiples): € 220 to € 550 /month
Energy costs and tap water (shared also): € 100 to € 150 /month
Food: € 100 to € 150 /month
Other: € 30 to no limits /month
Student dormitory:

Fees (including weekdays' food, energy costs etc.): € 550 /month
Others: € 100 to no limits /month
Security in the city
In the last few days, I heard that a traffic accident happened near the city centre caused by the car driver under the influence of drugs. It seems that drug usage has spread throughout the city in some cases. However, on campus security is quite good because security staff frequentlly patrol the buildings. In the dormitory also, security staff ensure security 24 hours a day. You do not have to care too much about your safety or criminal activity in the city. You only need to be conscious not to take stupid risks. These are very common things which could be applied wherever you go.

Conclusion
In conclusion, I am fully satisfied with living here because I have good days studying in the university. Unfortunately, I have not made many Spanish friends yet due to my language abilities. Of course, I have to make more effort to improve my current circumstances.
I also have acquaintances who live in this city for their jobs or evacuations from a war in their country: Ukrainian and Georgian. The Ukrainian evacuators have stayed in Zaragoza for several months. I heard that they had to move from one city to another in Spain since they came to the country to ensure their temporary accommodation. Even in Zaragoza, they need to move between some districts for the same reason. Many of them have come here with their spouses and young children. A Georgian guy who I know said that he came here with his wife and small children to look for a job and evacuate from internal conflicts but he was told that it was necessary to acquire Castellano to get a well-paid job.
The common thing between those guys it's that they definitely must get a job to survive here regardless of their hardships. These things remind me again that immigrants' issues do not end; only a society accepts them from other regions. That means there is a grim reality that they cannot survive unless they get their new job even if they succeeded to move to other countries. Having relations with such people makes me more enthusiastic because I can see their life stories which can give me ideas for my career. Furthermore, that relationship definitely supports my motivation to live here because I can ask them or help whenever I have some troubles. I hope you make the best decision for studying abroad.



Photos of the city:
Calle de Alfonso Ⅰ, The most famous sight in the city of Zaragoza: Basílica de Nuestra Señora del Pilar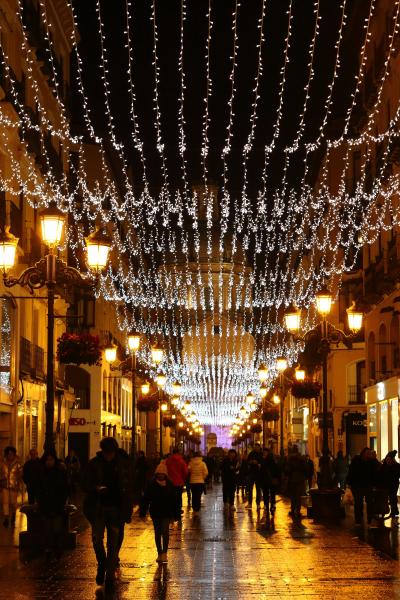 Paseo de la Independencia, In the direction to Plaza de Aragón from Plaza España